Unable to Get Back to the Florida Keys After Hurricane Irma? NOAA Releases Interactive Damage Map
Sean Breslin
Published: September 13, 2017
Note: A previous version of this article said the imagery was captured by a satellite. This has been corrected to reflect that it was actually aircraft that captured the imagery.
Hurricane Irma devastated the Florida Keys, destroying as many as 25 percent of the homes on the islands as it ravaged the area during Monday's landfall. Many residents have not been allowed back into the Keys, and it can be unnerving to not know the fate of a home or boat for several days after the storm.
NOAA aircraft passed over the Keys twice on Monday and once on Tuesday after the storm made landfall and captured images of the homes and businesses in Key West and other nearby islands. The aircraft captured clear images with impressive detail, and NOAA placed them on an interactive map for residents to view.
To see the interactive map, please click here and zoom down to the Keys. The map will turn into an aerial image, and you can use the search functionality in the upper left-hand corner to zoom down to street level and see a specific area as it looked on Monday.
Below are some samples of before and after imagery from the NOAA flights.
Debris scattered in between homes and eroded sand due to storm surge. (Before: Mapbox / After: NOAA)
Structures destroyed near Marathon, likely by storm surge and pounding surf. (Before: Mapbox / After: NOAA)
Roof damage and sand that was spread inland by Irma's storm surge near Marathon. (Before: Mapbox / After: NOAA)
The yellow arrows on the right show structures that were moved near Marathon. The left side arrows pinpoint a large amount of debris in between homes and some roof damage. (Before: Mapbox / After: NOAA).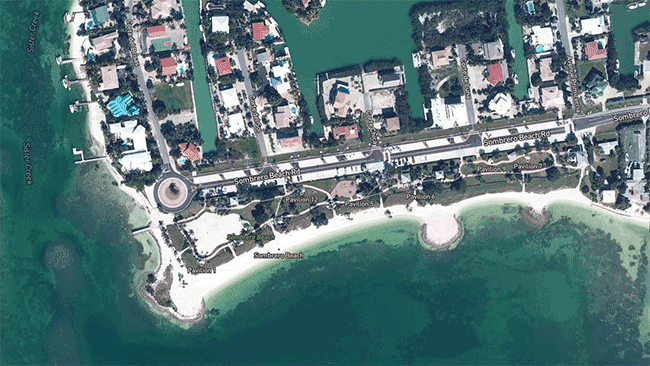 A large amount of sand swept inland onto a road near Marathon. (Before: Mapbox / After: NOAA)
The Weather Company's primary journalistic mission is to report on breaking weather news, the environment and the importance of science to our lives. This story does not necessarily represent the position of our parent company, IBM.
Recent Stories
| | |
| --- | --- |
| | July 18, 2018 |
| | July 18, 2018 |
| | July 18, 2018 |
| | July 18, 2018 |
| | July 18, 2018 |